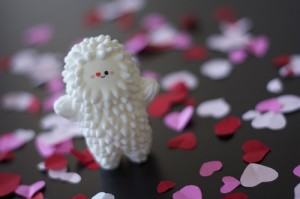 It's coming. Again. And every year, there are people who look forward to Valentine's Day, and some who don't. It's nice if you have a special someone to share the day or evening with, and for some, not so nice if you don't. This year, if you're someone special who doesn't have a special someone to share the day with, don't fret. I'm here to tell you, you do.
Yes, you do. YOU!  Let's face it, we get so caught up in the have to's, the must do's, and the should's, that we cause and create much stress and anxiety for ourselves, all the while trying to find the balance in the rat race of work, life and finding love. But you've forgotten one thing, one very important thing. Yourself. How can you love someone, and how can someone love you, when you've forgotten to love yourself?
Valentine's Day doesn't have to be the pressure-cooker of dates and finding love that the media and marketers have cooked it up to be. This year, if you find yourself flying solo, embrace it. Sometimes things are the way they are, for you. Sometimes, in unwanted situations, there's a gift, and here, on this day, the gift may just be the gift of being able to give to yourself. You love yourself, right? You deserve some personal TLC from none other, than yours truly…YOU.
No victims here. Enjoy the day. Make it an event. You're incredible. Special. A very important person. Give to yourself. Treat yourself. This can be your special day. Get together with friends. See a movie, grab a bite, or stay in and get cozy with your favourite meal and a great movie. We never seem to get enough "me -time" anyway. Have fun, enjoy, but also spend some quiet time with yourself, to think, reflect, re-group, and re-evaluate. Growth and clarity often comes when we spend that quiet and meaningful time with ourselves, and this is my wish for you. You are empowered to think any way you choose, and to live any way you choose. Live it well, and enjoy YOU! Happy Valentine's Day You!
Lauren xo
www.laurenmillman.com    Tel: 416-576-5881
Lauren Millman is a Certified Relationship & Dating Coach Practitioner in practice for over 11 years. Lauren has a degree in Psychology, is an International Best Selling Author, TV Host, and Writer for several E-Magazines and Websites including SiriusXM and Huffington Post, and has helped hundreds of men and women who are dating for the first time, or who have found themselves dating again after divorce, and who are looking for love.
Finding "the one" is never easy, but with Lauren's expertise in teaching you dating skills and techniques, and helping you with your self-confidence and reminding you why the opposite sex really wants, your dating success can be that much more.
We feel very lucky to have Lauren, her wisdom, and great her advice, here with us at Soulmates, and we highly recommend her to help you. Lauren brings years of expertise to her teaching skills and techniques, her understanding of behaviour, and her genuine interest and approach in helping you find your "One and Only". Lauren can be reached at 416-576-5881, or by email at lauren@laurenmillman.com.
All calls are highly confidential.